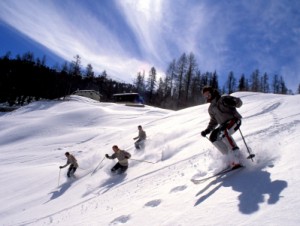 Heavenly Job Fairs:
Come for the JOB – Stay for the EXPERIENCE!
2010/2011 Heavenly Resort Job Fairs at the California Lodge
• Saturday, October 23rd, 9:00am-4:00pm
• Tuesday, October 26th, 4:30-7:00pm
Free Ski Pass
Health Insurance
Great benefits
• Apply online at www.jobs.vailresorts.com prior to attending the fair.
Heavenly resort at California's Lake Tahoe fits its given name. Heavenly's landscape is second to none in beauty during any season. To fully appreciate the loveliness that surrounds Heavenly take a ride on the Heavenly Gondola. On your way up stop at the Gondola Mid-Station. At Mid-Station you will find an observation deck overlooking Lake Tahoe, Café Blue and Shop in the Sky. But this exquisite resort has much more to offer than its beautiful views. At the top of Heavenly Gondola is Adventure Peak. At Adventure Peak you can walk hiking trails, climb the climbing wall, crawl through the Spider Zone or grab a bite to eat; it is the perfect stop for kids and adults.
Heavenly has many lake activities to offer its guests. Spend the day boating, kayaking, or parasailing out on Lake Tahoe. You might enjoy taking a scenic helicopter tour or a hot air balloon ride over majestic Lake Tahoe. If your stay at Heavenly resort is during the ski season then you are sure to have a great time in the snow. After a busy day on the slopes take a relaxing break at Heavenly's hot springs or hit the town for some fine dining, shopping or the casinos. Whether you visit Heavenly resort in the winter or summer you are sure to feel like you've tasted a little piece of heaven.
Search for Heavenly ski jobs now.