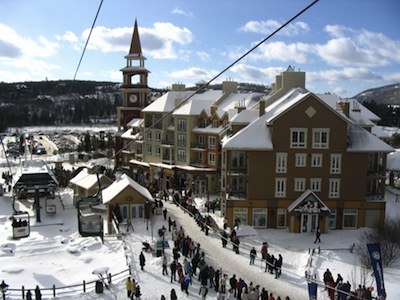 While it's true that working at a ski resort necessitates a hearty constitution and a general willingness to deal with freezing temperatures, the truth is that there's a lot to love about such a job. Aside from the instructors, who have a burden of responsibility to keep their students safe, nearly every job at the average ski resort could be considered more fun than work (and surely the instructors have plenty of fun, as well). There are many reasons to consider such a job, especially if you are interested in the sport or skiing, and here are a few benefits to consider.
The wilderness is your office. Some people appreciate a temperature controlled atmosphere to work in where everything is the same drab, gray color and nobody can speak above a whisper without being overheard by the guy in the next cubicle. Others would prefer a day on the runs. If you're looking for a job that get you outdoors, breathing in the fresh air and zipping down a mountain at top speeds, then perhaps a position at a ski resort is right up your alley.
Free/discounted lessons and passes. Although most people that end up working at ski resorts probably have some kind of background in skiing, both novices and pros alike can benefit from the major bonus that comes with such a job: discounted (or possibly even free) lessons and passes. The extent of these add-ons depends largely on the resort, but buddying up to instructors could earn you tons of free tips (education by proximity) and discounted passes or even free ski nights for employees might be on the table, as well. So whether you find the black diamond runs passé or you're intimidated by the T-bar and the bunny hill, you'll likely have chances to practice and improve when you work on the mountain.
Discounted equipment. Many people are deterred from skiing by the cost, and the most expensive aspect of the sport is probably the equipment. While seasonal passes will add up and surpass the expense of your gear at some point, the initial cost for skis and poles (or a snowboard), winter wear (coat, snow pants, gloves, boots, etc.), and extras like goggles and a ski mask is pretty high. If you can get discounts on renting or purchasing any of your gear it's probably going to make the sport a lot more accessible.
Meet new people. If you consider yourself a people person and your main joy in life is making as many new acquaintances as possible, then working at a ski resort will definitely deliver. With people traveling from all over the world to ski different mountains you're bound to meet all kinds of interesting new friends.
Great job for students. Okay, so most jobs at ski resorts don't pay that great. The family squeaking by with grocery coupons and the random Amazon or Verizon promo code probably can't get a livable wage from the majority of positions (mainly hospitality) available. But for the student that is living and studying in the area, classes during the week mixed with serving drinks at the ski lodge nights or teaching children on the bunny slope over the weekend could be perfect. And the many other benefits will definitely appeal to college kids that love to hit the slopes (for less).