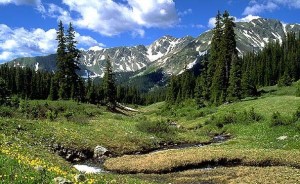 So, you are ready for change, a new job, new location, and a new way of life. Maybe you've spent time in the mountains and have considered relocating to a mountain town more than once. You are suffocating in your cubicle, sick of the treadmill and constantly craving the fresh mountain air. Consider these three important aspects of mountain living as you explore the possibility that this lifestyle may be the one for you.
1) Small Town Living
The traffic, the stress … the suit and tie. Definite causes for city burnout (at least for many of us here!). But the reality of living in a resort town with a small population can be a drastic change for those who have not experienced small town mountain living before. Less variety for shopping and entertainment and how do you feel about a hometown where just about "everyone knows your name"? You should really feel comfortable with the fact that there is not much anonymity in a small town and enjoy that you can see friends and acquaintances on a daily basis without a whole lot of effort. People in ski resort towns also tend to be on the friendly side, they love where they live making everyday encounters more positive and neighborly gestures more common than in more populated metropolitan locations.
2) Community
One of the key factors in creating and maintaining a successful small mountain resort town is a strong close knit community. Getting and staying involved. With an influx of seasonal travelers and vacationing home owners throughout the year, it becomes vitally important for local year-round residents to work together in the mountain communities to keep it continually thriving and to sustain the ski town's soul. Often times, a resort town will inhabit residents who are far from their original home. Your neighbors often become like family and the community bonds together in good times and bad.
3) The outdoor lifestyle
Does the thought of your natural environment being your main source of activity and entertainment sound dreamy? Activities that abound in an outdoor lifestyle include skiing, hiking, biking, fishing, kayaking and climbing. Many people who thrive in a mountain town will always find a way to incorporate these outdoor activities into their daily lives.
Will taking a couple of ski runs or a mountain bike ride at lunch allow you to be more effective and satisfied at your job, or will this be distracting, and cause you to be less productive? Are you more of a weekend warrior? How would you like driving five minutes to work Monday through Friday and five minutes to the mountain every Saturday and Sunday?
Are the majestic mountains, fabulous skiing, biking, hiking, and fishing something you dream about for your next vacation or do you see yourself living the lifestyle, endless mountain splendor right outside your door!
For those of you specifically seeking the mountain lifestyle perhaps having lived in a ski resort town before …you will most likely answer these questions with a definitive yes!