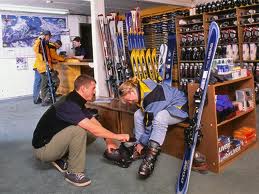 Love to ski but don't want to spend an 8-hour shift outdoors on the slopes? Consider becoming a ski shop worker! There are positions available in ski shops that will keep you busy talking skiing, give you some great perks, but will help you stay warm throughout your shift!
What They Do
Most of the positions within ski shops are going to be retail in nature. They need someone that can handle cash, provide customer service, and help keep the ski shop in good order. Just like most retail stores you will be providing a variety of customer service duties that include, but are not limited to:
•    Handling all aspects of the retail industry. You may be ringing up customers, handling returns, and taking phone calls where you will need to answer a variety questions.
•    The main thing you will be doing as a ski shop worker is to provide excellent customer service. When people step into the ski shop they are looking for information, products, and service. You will need to be able to help them to the best of your ability.
•    You will need such skills as boot fitting and ski tuning. The more you know about skis and boots, the better. You will want to know about the brands being carried in the ski shop and how to best go about helping people select the right ones for them.
•    Ski shop workers need to be passionate and experienced at skiing. They will be providing advice and answering questions, so they need to know what they are talking about in order to represent the ski shop well and help each customer.
As a ski shop worker you may also have to engage in duties such as organizing the shop, setting up displays, and helping to keep it clean. You will be working as a member of team, so having good team skills is a plus.
Skills Needed
A college degree is not necessary to work as a ski shop worker. Most positions will be filled by those with at least a high school education. The most important skills that will be needed to work as a ski shop worker are retail experience and skiing knowledge. It's important to know about the equipment used, how to help people be fitted for it, and to be able to answer questions about it.
Ski shop workers may need to have flexible hours and be available on weekends and holidays. They will also need to have good cash handling experiences, as they may be running the cash register as customers make purchases. Additional skills that will be needed as a ski shop worker include telephone skills, record keeping, and communication skills.
Perks Galore
The average salary for a ski shop worker is going to be around $10 per hour, depending on the geographic location and where the ski shop is located, such as in a big resort or not. Many people who work in ski shops do so for the perks as much as for the position itself. For someone who loves to ski, the perks may be enough of an incentive to spend at least one season as a ski shop worker. Ski shop workers often get to test new products before they are offered in the store, get free gear, and get free lift tickets for them and their friends.
If you have ski experience, are passionate about skiing, and want the perks that come with being a ski shop worker, start looking for positions. The competition can be keen, as many people stay in the positions for the perks, but there are some out there. If there is a particular ski shop you want to work in, get to know the brands they carry, as well as their designs. The more you can demonstrate you know, along with having customer service and retail experience, the better your chances of getting hired.
Ski shop workers may be able to work in year-round positions, depending on the ski shop they get hired at. There are also opportunities to advance as a ski shop worker. You can work your way up to a management position with experience. Some people may also start out as a ski shop worker and then work their way into another position, such as becoming a ski instructor, joining the ski patrol, or becoming a lift operator. Those who enjoy skiing and the perks that they may gain from being a ski shop worker will find that there are some good opportunities in the field.