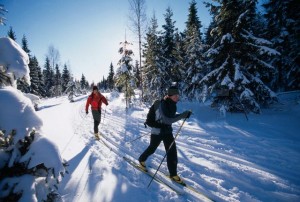 Visit Vermont's Stowe Mountain Resort and enjoy fresh mountain air all year long. Come ski or snowboard in the winter and show off your skills at Stowe's Terrain Park and Half Pipe. If you are looking for an even bigger challenge then check out the Rail Garden and Jib Nation. These winter attractions are very popular with the youth, so feel free to bring the whole family on your vacation to the resort. If you are interested in doing some exploring then take advantage of some of Stowe's unique offers – dog sled or mountain tours.
Looking for somewhere to host a big event? Let Stowe Mountain Resort host a ski race for you! Stowe is the perfect place for corporate events, reunions, etc. Everyone is guaranteed to have a good time. In need of some personal wellness? Then book a weekend at Stowe's Wellness Center. Here you will learn about nutrition, personal well-being and relaxation. You are sure to walk away feeling rested and rejuvenated.
If you are visiting during the summer season then slide down our Alpine slide, float through the air on the Gondola Skyride, climb to the top of the Climbing Wall or take on the Inflatable Obstacle Course. You are sure to have fun no matter which attraction to choose at Stowe Mountain Resort.
Search for ski jobs at Stowe Mountain Resort now.