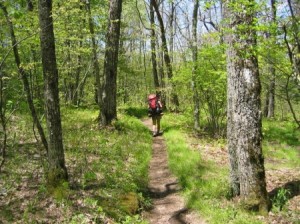 Whenever you visit a mountain you can be sure to find one thing; trails. These trails will serve different purposes depending on what time of the year it is, but ultimately that means there will also be a number of mountain jobs created by these trails.
When the snow is on the ground in the mountains, then all those trails lead to paths ripe for cross-country skiing. However, some paths may be a bit trickier than others and require a guide. If you have great cross-country skiing skill then you may be able to get a mountain job in the winter time as a trial guide for the many cross-country skiers who visit.
When the snow is gone from the mountain ground, the trails become the perfect place for two different activities; mountain biking and hiking. If you have a taste for either and you are good at either, then you can easily land a mountain job in those areas. Maybe your specialty will be helping others get equipped to hit the trails, or maybe you will be a guide, but you will certainly be able to find mountain job opportunities in such areas if you want them.
No matter what time of year it is, there will always be a need for safety on any mountain, especially on the trails. So, you may be able to find a mountain job as a forest ranger or even as ski patrol. You might even be able to do both if you are talented enough and work near a mountain that has activity all year long.
Mountain jobs are sometimes more plentiful than others. However, thanks to all the wonderful paths on the various mountains, you will always be able to find at least some level of job activity no matter what time of the year you may be seeking a mountain job.