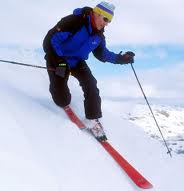 October 16th marked the first day of the rest of my life, for this is the season of tele.  For those uninitiated, telemarking is a form of backcountry skiing in which the heel does not safely clamp down in a binding.  No friends, your heel is as free as a jay bird on a spring morning!  And while this is all fine and good in theory, the reality is your legs are now charged with the formidable task of keeping the rest of you upright while your skis writhe underneath you in their new found freedom.  All the while, you are attempting to carve those graceful, trademark tele turns.  Yeah, right.
For the last decade, my snowboard has been my main form of transportation down the sides of mountains all over Colorado.  From using it daily when I was a lift-operator at my local mountain, to attempting backcountry in the steeps on the Continental Divide, I never thought the day would come that I would want to trade it in for a pair of wily planks.  Then, this spring, while slogging through some spring corn-like snow, a new thought occurred: "Wouldn't it be fabulous to not have to lug a snowboard up the side of a hill, switching out to snowshoes when it was time to hike back up?  Wouldn't you rather keep up with your skiing friends, seemingly unfettered by extra equipment?  Doesn't it look SO EASY?!?!"
Thus, the seed of conversion was planted.  All summer, I started collecting my "new" used tele equipment, piece by piece.  With every new gear acquisition, a boost of confidence fed my ego into believing that it "wouldn't be so hard".  I mean, I'm fit, I know snow, this isn't completely out of my realm of understanding.  I can do this!  I WANT to do this!  Let's DO this!
As our 1978 camper (nicknamed The Hobo) barreled up I-70 towards Loveland that warm Sunday in mid-October, I was emboldened and ready to give 'er.  As I exited the lift for the first time in 10 years on a pair of skis and began my downward path, I began to feel something new.  Something I hadn't experienced in years.  Learning!  Yes, I was a beginner again and it felt fantastic!
Even though the first run took approximately an hour to get down, I was invigorated.  Even though I had all the signs of a "noob" attached to me (feeling and looking tentative, stiff upper body, wide-gaping jaw), I was smiling and laughing all the way down.  Even though my legs were burning and stiff for days afterwards, I couldn't help but day dream about the next time I would get a chance to slide down the mountain on my newfound favorite form of winter transportation.