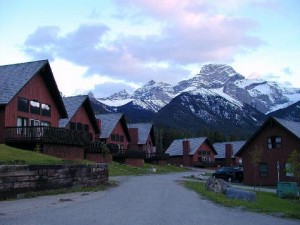 If there is one thing this big beautiful world is full of, it is gorgeous mountains, which also means that there are plenty of mountain resorts. This couldn't be any truer than in the United States where top mountain resorts seem to thrive. While the number of mountain resorts seems to grow with each passing year, there are five in particular that seem to set the stage for what a mountain resort should be.
While you can get a ski vacation package online and hope to find better mountain resorts than the ones that will be mentioned, you simply won't. These top five mountain resorts are always mentioned in all the travel magazines and always provide individuals and families alike with plenty to do all year round. This is unlike many that might make the list, but only feature activities in a certain part of the year, usually winter. These magnificent mountain resorts that always have something going on include:
1.    Jackson Hole Mountain Resort, Wyoming: Located right near Teton Village, this mountain resort offers something for everyone. In the winter time, skiers can delight in over 2500 acres of white powder fun on two mountains. The Apres Vous and Rendezvous mountains offer some of the best skiing in the United States and there are also many trails, both named and unnamed, that can provide for wonderful fishing, hiking, and mountain biking alike in the summer time. With 12 lift systems to take visitors up and down the mountains, this Western United States paradise is arguably just as pretty in the winter as it is in the summer. With plenty of shopping and fine dining to choose from, this mountain resort certainly sets a president that is hard to follow.
2.    Aspen Mountain Resort, Colorado: When it comes to a ski vacation rental, there is one name that has become a mainstay; Aspen. Aspen features more than 5300 acres of terrain that makes for the most enjoyable skiing in the winter and the most beautiful scenery in the summer. Add this to the endless nightlife in the area and you have a mountain resort that should not be missed. With several other mountain resorts in the area, this small Colorado city plays host to some big time events. Even the kids can get in on the action as there is a Tree House Kid's Adventure Center close by. With millions of dollars spent on improvements over the years, this winter resort is one that should definitely be included in any list of top mountain resorts.
3.    Sugarloaf Mountain Resort, Maine: Boasting Maine's second highest mountain peak, Sugarloaf is a big mountain with plenty to do. Those who visit in the winter time are treated to world class skiing and snowboarding on some of the finest 'sugar' snow in the world. Not to be outdone, the summertime brings mountain biking on a number of trails, hiking on too many trials to count, world class golf, and even zip lines. No matter when you visit Sugarloaf, you can be treated to a number of five star restaurants that will serve you food that is out of this world. Couple all that with a never ending nightlife that includes plenty of shopping and fun and you have a mountain resort that is more than worthy of mention.
4.    Stowe Mountain Resort, Vermont: Winter time brings all those who travel to the Stowe Mountain Resort a ski trip that will not soon be forgotten. Stowe Mountain is filled with trails and they are constantly adding new trails for both beginners and expert alike. No matter what your level of ski expertise is, you are bound to find some thrills at Stowe Mountain Resort. In the summer time, you can enjoy some of the best golfing that the New England area has to offer as well as take a stroll though some of the many mountain trails on foot or on bike. Dining and entertainment are never at a loss no matter what time of year you visit and the mountain offers up some of the most beautiful views throughout the calendar year. Add to that a full calendar of events which includes music, arts, and more and it is easy to see why Stowe Mountain resort makes the list.
5.    Vail Mountain Resort and Spa, Colorado: What list of top mountain resorts in the United States would be complete without mentioning a resort in Vail, Colorado? This Marriott run mountain resort is only steps away from the biggest and best mountains that Vail has to offer. That means that there is unbelievable skiing in the winter time and unreal adventures like mountain biking and hiking in the summer time. No matter what time of the year you find yourself at this mountain resort, you can take full advantage of their award winning spa where you will be pampered like never before. Choose to eat at the resort or go to one of many fine dining establishments in the area. This mountain resort is famous for giving you whatever you want from shopping to dining and even valet parking, you are truly treated like royalty. One trip to this mountain resort will certainly leave you wanting more.
There are now so many mountain resorts in the United States that you could literally go crazy trying to find the perfect one to visit. While each mountain resort will certainly have its good and its bad, making mountain reservations at one of these top five seems to be a sure thing the whole year round.
While you can take the word of the many magazines that feature these award winning mountain resorts on a consistent basis, the proof is really in the pudding and there is nothing that will convince you like a trip out to one of these majestic pieces of paradise where you will get to see firsthand just how wonderful they truly are. One word of warning though, make sure you have plenty of vacation time saved up as you are likely going to want to extend any trip that you do take as there never seems to be enough time once you actually get to one of these top mountain resorts.