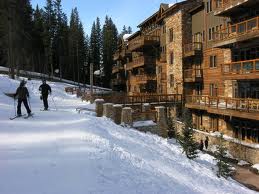 For some, it's a dream vacation to rent a condo in the mountains.  But, there are many variations on that ideal vacation.  To some it could be a place to strap on your skis right outside the door and take off. To others it might be a summer escape from the heat.  Or some may be looking for action an packed get away.
Colorado is a top ski destination and for good reason.  The mountains of Colorado receive a generous amount of light fluffy snow and are known for their beautiful sunny winter days.  Due to high the altitude the ski resorts open in November and some are open as late as June. People from all over the world come to the Rocky Mountains to ski.  The most popular resorts are Vail, Aspen, and Breckenridge.  But, there are many other great places to rent a condo and ski. Steamboat, Cooper, Keystone, and Beaver Creek condos are excellent choices as well.  Ski-in/Ski-out condos are great because you don't have to deal with driving or taking the bus with all your ski gear.  And of course, nothing feels better after a day of skiing than soaking in a hot tub, so be sure to keep that in mind as you search for your ski condo.
The Rocky Mountains can be a great summer destination as well.  The temperature decreases about 3.5 degrees per every thousand feet, so heading to the mountains can be a refreshing treat to many.  For example, in Aspen summer highs are typically just in the mid-70s.   With beautiful mountains and fields of wildflowers, hiking in the summer is absolutely stunning. You can challenge yourself to a hike and experience the beauty of a high mountain lake.  After a long day, it's great to retreat to the balcony of your condo and watch a beautiful sunset.
In the summer, ski resorts often offer activities as well.  At many resorts you can take your mountain bike up the ski lift and have an exhilarating ride down.  There are also plenty of trails that are not quite as steep available too.  For kids, and kids at heart, many resorts also have alpine slides.  To really get into the backcountry, horseback rides in the mountains are popular as well.    With all the snow melt the mountains experience in the spring and summer, white water rafting is also quite popular.  There are plenty of activities available to have an action packed get away.
So, as you can see there are plenty of reasons and seasons to rent a mountain condo.  With all you can do all day, it's nice to have a comfortable retreat at the end of the day.  A condo gives you a sense of a home away from home – instead of just sitting on a bed in your hotel room.  You have the ability to cook your own meals and gather in the living room.  For families or groups traveling together you can get the convenience of separate private bedrooms while sharing the social areas of the condo.