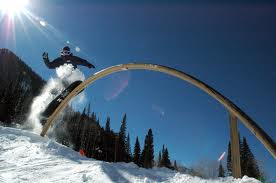 Since snowboarding has become a widely accepted winter sport, more and more winter resorts have tried to make their resorts more appealing to riders by adding terrain parks. Terrain parks feature jumps, boxes, rails and other obstacles for freestyle snowboarders and skiers to practice and showcase their skills.
Navigating a terrain park for the first time can seem a bit intimidating even for experienced riders. Riders should always line up behind the feature to make sure that the feature and the immediate surrounding area is clear. Before starting a run, a rider will typically raise their hand to signal intent to go next. If by chance a rider falls while attempting a trick it is critical that he/she clear the area as soon as safely possible to avoid becoming an unexpected and dangerous obstacle to other riders and themselves.
Jumps are usually marked with visible spray paint so that riders can easily line up their tricks and jump at the right moment. The most important thing to for riders to keep in mind is their individual skill level and to build up their skill level before attempting more difficult maneuvers. In order to keep the terrain park an enjoyable and safe place for riders of all skill levels, it's important that riders use the proper safety equipment and follow all posted signs and placards.