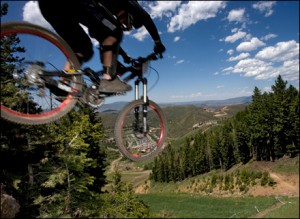 Deer Valley Resort in Park City, Utah is definitely known for its world class skiing. In fact, the resort was named the best in North America the last four years by Ski Magazine, but that doesn't mean that this five star resort is any less action packed come summer time. With all the activities, both indoor and outdoor, the resort is a great place to find employment if you are looking this summer
Deer Valley Resort has some of the finest dining that Utah has to offer and no matter how hot or cold it is you can always find a great meal while visiting. Additionally, there are plenty of great shops and other places to visit that make the entire area one to covet.
However, it is what is on the outside that is probably most appealing to those who go to Deer Valley Resort to visit and to work including:
•    Hiking: Hiking can be enjoyed on your own, or by guided tour. With the many paths and trails to delight young and old, hiking near Deer Valley Resort is second to none.
•    Scenic Rides: The same chair lifts that take skiers to the top of the mountains in the winter time treats the summer guests to a scenic experience not to be missed. You can either take a trip up and down the mountainside and take in all the sights, or get off at a certain point for some hiking.
•    Music Festivals: The summer months see many talented music acts come into town for music festivals that feature some of today's most popular tunes.
While it may not seem like it, Deer Valley is a great place to work, even in the summer time. For those who like to work in an environment of pure beauty and enjoy making other's vacation dreams come true, Deer Valley Resort in Park City, Utah represents the perfect summer employment opportunity.
Search for summer resort jobs.