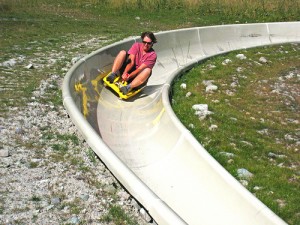 Whitefish Mountain Resort in Montana is a great place to both play and work all year round. Many in the resort industry who find the need for summer employment will come to Whitefish Mountain Resort as there is never a dull moment at this western paradise.
There are many outdoor activities that keep the Whitefish Mountain Resort busy in the summer months including:
•    Zip Line Tours: Whitefish Mountain Resort has one of the best zip line tours in the state. With six separate zip lines to enjoy, there is a thrill and adventure for everyone who takes a zip line tour.
•    Alpine Slide: This is fun for the entire family. With banked turns and fast straight-aways, the Alpine Slide will have your heart racing as well as your body.
•    Walk the Treetops: Take a guided tour like never before when you go 70 feet above the ground and literally walk the treetops. This popular adventure is one that gives you a unique perspective on nature and will leave you with memories that will last a lifetime.
•    Hiking: Explore all that Big Mountain has to offer when you go hiking there. Take your time and enjoy all that the beautiful mountainside has to offer.
•    Mountain Biking: Whether you are an extreme mountain biking enthusiast or you are just a beginner, you will be able to get your mountain biking fill in at Whitefish Mountain Resort. With many paths and many possibilities, you are certain find the ride you are looking for.
If you are on the prowl for summer employment that will put your best skills to the test then you will certainly find a worthy challenge at the Whitefish Mountain Resort in Montana. With so much to do both on and off site, there is almost no end to the amount of summer employment opportunities that the area holds for you.
Search for summer resort jobs.